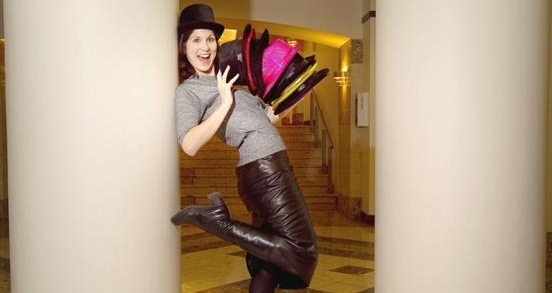 Martina Oslejskova, one of the founders of Broadway Academy Westmount and a great Broadway workshops instructor is being introduced to the general public of Montreal Island! Ms. Kathryn Greenaway reveals Martina's childhood, professional life and her passion for musical theater. What brought her to Musical Theater? Believe it or not it was one of the old movies with phenomenal musical star – Fred Astaire called Finian's Rainbow!
There wasn't much in the way of entertainment television where she lived. The government kept a tight rein on things, so watching Finian's was a big treat. She sat, transfixed.
"I saw it again when I was 7 years old and remembered so many details," Oslejskova said. "I kept telling my parents what was coming next. They couldn't believe what I remembered. That's how much it affected me…"
Martina studied Broadway Performing Arts at one of the few universities in the world that offer this program. She says it was easy to decide what university she would study after the High School. But it wasn't easy to be accepted to the program. She auditioned with 431 other hopefuls for one of seven available spots. She was accepted.

When people tell me I am talented, I tell them it's not about talent. It's about hard work," she said. "I prepared for that audition for two years, showing up at the school gym every morning at 6 a.m. to practise by myself before school started …
And why does she love music and musical theater?
"Everything we love in life is found in musicals," Os­lejskova said. "Singing, music, dancing. Humans have been singing since the beginning of time, and music makes us move and feel good. It's natural. Musicals relax you and make you happy."
To read the whole article visit: http://www.montrealgazette.com
https://www.broadway-academy.com/wp-content/uploads/M.Oslejskova_2_crop1.jpg
293
552
Broadway Academy
https://www.broadway-academy.com/wp-content/uploads/logo-broadw-2-300x150.png
Broadway Academy
2012-01-04 22:00:23
2012-02-08 10:45:23
THE GAZETTE PRESENTS MARTINA OSLEJSKOVA'S LIFE STORY!